Alameda, California, 1854 old map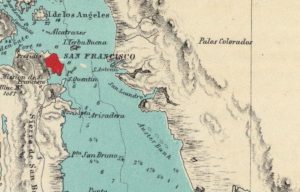 The image to the left  which shows Alameda, California is from a close-up of an old map that was made of the San Francisco Bay Area in 1854. Notice "Auster Bank" (Oyster Bank) near San Leandro Bay and Bay Farm. Click images for much bigger pictures.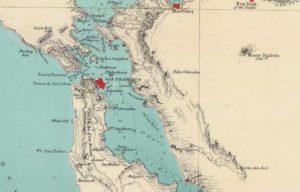 The picture to the right is from the same map, but shows a larger area. Of note: "New York Pacific", "Pt. S. Quentin", "Mission San Jose."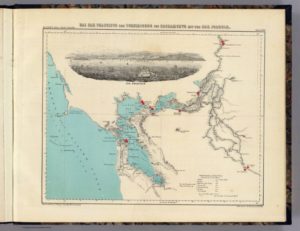 The image to the left is the full map that the close-ups above came from.
Author:

Date:

Short Title:

Publisher:

Type:

Lange, Henry

1854

Bai San Francisco und Vereinigung des Sacramento mit dem SanJoaquin

Braunschweig: George Westermann.

Atlas Map; View
This images of this map are from the David Rumsey Historical collection and are provided here for educational use only.